The Fundamental Principles Of SoundHealing from the Ancient Shamanic Tradition to New Science Followed by Tuning Fork Studies
With John Beaulieu, ND, PhD and Lea Garnier
May 19 - 21, 2023
TRAINING CERTIFICATION: Module 1 of 3
The Certification program is spread over 3 weekend intensives equaling 100 hours of training with pioneers who will show you how to utilize a variety of Sound Healing techniques for your own practice as a SoundHealer. With a certificate from Sage Academy of Sound, students will be better equipped to serve as practitioners, specialists, volunteers, interns, or even as members of a multidisciplinary treatment team within a health center or a community agency, as well as in a private healing or counseling practice.
We believe that the only way to truly absorb the teachings is by total immersion and abundant practice time. The retreat style setting limits outside distraction and enhances the deep focus needed for personal healing to occur, which in turn clears the way for the teachings to be experienced and deeply retained.
Areas of study in this Module:
Shamanic Sound Healing Instruments
The science behind Shamanistic Sound Frequencies
Journeying w/sacred sound
Principles of SoundHealing
Power of Musical Intervals
The natural flow of sound energy
Tuning Fork Studies
Presentation of the different type of tuning forks and their best use
Everybody will have a hands on opportunity to practice a tuning fork protocol
Finding the best way to easily integrate the tuning forks into your life and professional practice enhances therapeutic outcome
A clinical session based on how to use the tuning forks in a private session
A clinical session based on how to use the tuning forks in a Sound Bath
Please note that each module can be taken independently for a Certificate of Attendance. However, to receive 100 hours of certification, you must take all three modules of the training certification program which are:
Module 1: The Fundamental Principles Of SoundHealing from the Ancient Shamanic Tradition to New Science Followed by Tuning Fork Studies with Dr. John Beaulieu and facilitated by Lea Garnier (5/19 – 21)
Module 2: Sacred Metals – Standing Gongs/Himalayan Singing Bowls Bells & Shruti Songs with Lea Garnier and guests (7/28 – 30)
Module 3: Crystal Core Awareness with Crystal Bowls, Pyramids & Singing Crystal Consciousness with Lea Garnier and guests (8/25 – 30)
---
Schedule
Friday, May 19 with Lea Garnier
3 pm Arrival & Check-In
4 – 5:30 pm Introductions & Overview
6 – 7 pm Dinner
7:30 – 9 pm Sound Bath
Saturday, May 20 with John Beaulieu
8 – 9 am Breakfast
9:30 am – 12 pm Teachings
12:30 – 1:30 pm Lunch
2:30 – 5 pm Teachings
6 – 7 pm Dinner
7:30 – 9 pm Sound Bath
Sunday, May 22 with John Beaulieu
8 – 9 am Breakfast
9 am Check-Out
9:30 am – 12 pm Teachings
12:30 -1:30 pm lunch
2 – 5 Teachings
5 pm Departure
*Please note that schedule is subject to change. 
Leaders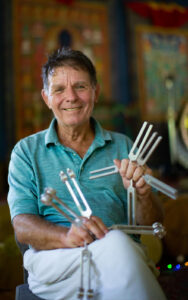 John Beaulieu, ND, PhD
John Beaulieu, ND, PhD, is one of the foremost philosophers and major innovators in sound healing therapies. A world-renowned speaker, composer, psychologist, and naturopathic physician, Dr. Beaulieu pioneered Biosonics, a natural method of sound healing and consciousness development using tuning forks and other sound modalities to "tune the world". He is the author of Human Tuning, Sound Healing, Values Visualization, and Music and Sound In The Healing Arts as well as numerous professional chapters and research papers on sound healing. He is the composer 7 CD's including Calendula "A Suite For Pythagorean Tuning Forks" and Apollo's Lyre "Adventures In Cosmic Harmony". 
Learn more about John Beaulieu, ND, PhD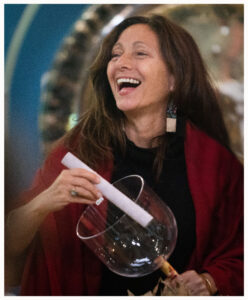 Lea Garnier
In 2010, Lea founded the first East coast Annual SoundHealing Intensive at Menla, NY. By creating a forum for pioneers of SoundHealing to share their knowledge, a platform was launched for in depth studies that has greatly contributed to todays expansive and ever growing field of sound practitioners world wide. She now offers 5 SoundHealing training/retreat intensives a year in America with expanded offerings in Europe. She is the Director of Sage Academy of Sound in Woodstock, NY. More info here: https://sageacademyofsound.com/our-story
Learn more about Lea Garnier