Skillful Action in Iyengar Yoga
With Jessica Becker
April 14 - 16, 2023
Through asana and pranayama practice, we will explore the nature of skillful action. Every yoga posture is captured in T.S. Eliot's words, "We must be still and still moving into another intensity." Iyengar Yoga offers deep and transformative study into intensity through the essential stillness and ease of yoga postures that comes with skillful action and intelligent movement.
Through skillful action, the layers of our being – from the outermost to the innermost – can be brought into a state of balance, and our levels of physical, mental and emotional strength, range of motion, energy and stamina are deepened and restored. Practicing with skillful action is inclusive of all areas; no area is overlooked, overworked or underworked. This is the essence of the integration of being "still and still moving".
This retreat includes asana, breath work (pranayama), dharma talks, and chanting. One year of Iyengar yoga experience is required.
---
Schedule
Friday, April 14
3 – 4 pm Arrival & Check-in
4 – 6 pm Asana
6 – 7 pm Dinner
7:30 – 9 pm Evening Event (tba)
Saturday, April 15
8 – 9 am Breakfast
9:30 am – 12 pm Asana
12:30 – 1:30 pm Lunch
1:30 – 4 pm Relaxation/Spa/Hiking Trails
4 – 6 pm Pranayama
6 – 7 pm Dinner
7:30 – 9 pm Sound bath
Sunday, April 16
7 – 11 am Check-out of Rooms
8 – 9 am Breakfast
9:30 am – 12.30 pm Asana
12:30 – 1:30 Lunch & Departure
*Please note that the schedule is subject to change at any time. 
Leader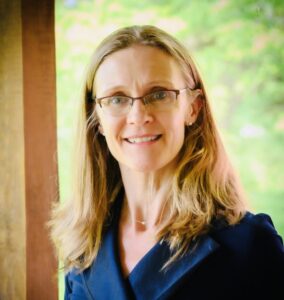 Jessica Becker
Jessica is a senior level certified Iyengar Yoga teacher.   She is a member of IAYT (International Association of Yoga Therapists) and has taught Iyengar Yoga for 23 years in the Hudson Valley.  She works with methodical detail, and creates a playful and challenging approach to the path of yoga practice as a tool to study oneself.  For we practice yoga not to get better at yoga, but to learn more about ourselves.  She is well practiced and experienced in Iyengar Yoga therapy as an effective tool to help injuries, chronic pain, trauma, and other conditions.
Learn more about Jessica Becker