Building Capacity for Safety & Joy
With Luis Mojica
August 25 - 27, 2023
Safety comes from inside of our bodies. Think of all the times your environment was peaceful or you were around loving people, yet your body was still bracing or experiencing anxiety. There's a good reason for this. When we have trauma and chronic stress, our bodies live in a state of bracing from remembered and expected threat. Our nervous systems focus on what could go wrong instead of what is going right — not because we're negative or broken, but because the body is so focused on surviving that it doesn't feel the reality of its survival. A body that constricts is one that is trying to protect itself. Safety and joy soften that protective constriction, which can initially feel scary and even threatening to such a body. This is why we must build our capacity for safety and joy.
Luis Mojica is a global Somatic Educator who teaches people how to find safety in their bodies through nutrition, self-inquiry, and somatic techniques. He is the founder of Holistic Life Navigation, and his courses, podcasts, and Instagram feed are celebrated and supported by a global audience. This weekend retreat will teach you the philosophy of somatics for healing stress and trauma through a holistic lens. You will explore sound healing, yoga, guided somatic group practices, and learn how to start relating to your body as a friend by speaking its beautiful language of sensation. You will learn how to feel safety in your body, nurture that state to grow and expand, and even connect with other human beings, nature beings, and sound in a way that can deepen the experience of felt safety and joy.
To keep this event intimate, the retreat will be limited to 30 people.
---
Schedule
Friday, August 25
3 – 4 pm Arrival & Check-In
4 – 4:45 pm Welcome: Introductions & Intentions
5 – 5:45 pm Lecture: The Biology Of Trauma & Safety
6 – 7 pm Dinner
7:15 – 9 pm Embodiment Practice & Sound Healing
Saturday, August 26
7 – 7:45 am Yoga (optional)
8 – 9 am Breakfast
9:30 – 10:15 am Lecture: Finding Safety Through Nutrition
10:30 – 11:00 am Group Somatic Practice
11:15 am – 12:15 pm Demo + Q&A
12:30 – 1:30 pm Lunch
1:30 – 2 pm Somatic Meditation & Practice
2 – 3 pm Co-Regulating in Nature: Letting Body Relate to Earth Sensationally
3 – 6 pm Free Time to Integrate
6 – 7 pm Dinner
7:15 – 9 pm Group Co-Regulation Practice: Connecting Through Touch
Sunday, August 27
7 – 11 am Check-out of Rooms
7 – 7:45 pm Yoga (optional)
8 – 9 am Breakfast
10:30 – 11:30 am Demo + Q&A
11:45 am – 12:15 pm Closing Somatic Group Meditation
12:30 – 1:30 Lunch & Departure
*Please note that schedule is subject to change.
Leader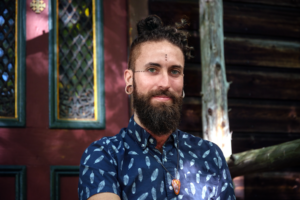 Luis Mojica
Luis Mojica is a Somatic Educator, Trauma Therapist & Nutritionist. His own painful journey with PTSD & chronic illness led him to develop his own unique form of therapy called Holistic Life Navigation. It combines whole food nutrition, Somatic Experiencing, & self-inquiry and is an effective modality to help heal stress & trauma. He teaches online courses, is an assistant trainer for Peter Levine's Somatic Experiencing International workshops, and is the host of The Holistic Life Navigation Podcast. He comes to this work from a decolonial lens and with the belief that the body is a being that we can…
Learn more about Luis Mojica