Embodying Buddhism: Somatic Mindfulness
With Aaron 'Water' Piepszny and Michael G. Burbank
August 11 - 13, 2023
Examining and practicing Buddha's Foundations of Mindfulness, we will find connection and ease within the pristine natural environment of Menla. Exploring the Buddha's words and teachings from the original source text, the Mahasatipatthana Sutra, we will find our own unique pathway of presence, relaxing in our bodies and with our breath. In the serene setting of the Catskills, we will connect our feeling bodies to the trees, earth, and streams, finding the wisdom and power of these elements illuminating our true nature. Rather than marathon meditation sessions, we will favor short bursts of depth explorations of breathing, relaxation, and awareness. We will then shorten these explorations with the goal of being able to access in body ease with no preparation or planning, just choice, in any moment of our lives. 
Menla's Executive Director Michael Burbank will share an introduction to mindfulness practice as found in the original sutra Friday evening. Presencing with nature, grounded in Buddha's Foundations of Mindfulness, we will commune with the powerful energies of the mountains, forest, and streams to explore our whole being. This immersive Gaian experience will foster rejuvenation, inspiration, and ease throughout our time together. We will refine our sensitivity through Chi Gung, awareness of breath, meditative walks, and sitting with the vital, living landscape of the Catskills.
---
Schedule
Friday, August 11
3 – 6 pm Arrival & Check-in
6 – 7 pm Dinner
7:30 – 9 pm Intro to the Mahasatipatthana Sutra with Michael Burbank
Saturday, August 12
7 – 8 am Beginning: Contemplating The Body
8 – 9 am eating in the present moment/ breakfast
9 – 10 am Beginning: Contemplating The Breath
10 – 11 am Beginning: Continuing With 'Relaxation' Aspect
11 am- 12 pm Outdoor Walking Meditation: Sitting At The Roots of Trees
12:30 – 1:30 pm Lunch
2 – 2:15 pm Journaling
2:15 – 3 pm Chi Gung
3 – 4 pm Water Contemplation
4 – 5 pm Ecology Walk
6 – 7 pm Dinner
7:30 – 9:30 pm Bonfire or Evening for Relaxtion
Sunday, August 13
7 – 11 am Check-out of Rooms
7 – 8 am Chi Gung
8 – 9 am Breakfast: Eating in Mindfulness
9:30 – 10 am Walking Meditation
10 am – 12 pm Sitting With The Elements: Journaling & Reflections
12:30 – 1:30 pm Lunch & Departure
*Please note that schedule is subject to change. 
Leaders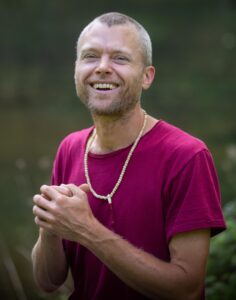 Aaron 'Water' Piepszny
Aaron Water Piepszny's bodily presencing is profound and palpable. He draws on 25 years of somatic awareness practices as a professional dancer and educator, Buddhist studies, meditation immersions, multiple Vipassana retreats, and a wide variety of Chi Gung schools and teachings. A lifetime lover and student of nature, he was raised on a rambling few acres of yard forest in Western NY where he ate fresh pears endlessly, marveled at the powerful cottonwoods, adventured through the woods, and stared in respect and wonder at the bunnies. He has certified with NLP master and author Jerry Stocking, Chi Gung Grandmaster Fu…
Learn more about Aaron 'Water' Piepszny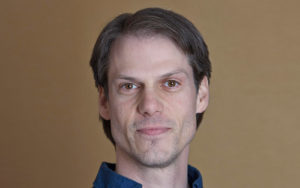 Michael G. Burbank
Michael G. Burbank has been a student of Robert Thurman and HH the XIV Dalai Lama for over 25 years, since his undergraduate years at Columbia University. In February of 2002 he was invited to help the Thurmans and Tibet House start the newly acquired Menla retreat. Over the years, he worked variously as Menla's dishwasher, housekeeper, Front of House Manager, and Assistant Director, and since 2013 he has served as Menla's Director. Michael received the Kalachakra Tantra initiation from His Holiness the Dalai Lama twice–in 2003 and 2017–in Bodh Gaya, India. An avid life-long student and practitioner of Buddhism,…
Learn more about Michael G. Burbank