YOGA FOR LIFE: KNOW YOU ARE ENOUGH
With Colleen Saidman Yee
October 6 - 8, 2023
This retreat is led by Colleen Saidman Yee, a renowned yoga teacher, studio owner and author who has been practicing yoga for over three decades. Are you ready to take your yoga practice to the next level while falling in love with what life is offering right now? Re-connect with yourself no matter what stage of life you are at. It is wonderful to practice with women from all different generations, backgrounds, and levels. There is nothing like the support of women. Our goal is to create a safe environment where self discovery is possible on every level – physically, emotionally, and spiritually.
The retreat is designed to provide a safe, welcoming and supportive environment for women to explore their inner selves, gain clarity and confidence while realizing that our voice matters.
Yoga for Life offers something for everyone. Colleen's teachings are accessible to all levels.
Throughout the weekend, Colleen will guide you through two yoga classes a day. Each class involves a safe, fun, and expertly curated sequence that will leave you in a state of quiet alertness and clarity. You will realize the power of strength and vulnerability. Every class includes pranayama, meditation, and journaling.
The retreat includes delicious and nourishing meals prepared with fresh, locally-sourced ingredients.
There will be time for spa treatments, reading, writing, hikes, and sweet, funny, deep and profound conversations with amazing women.
At "Yoga for Life: Know You Are Enough", you will have the opportunity to step away from the stresses and responsibilities of everyday life and discover what was never missing – your beauty and wisdom. Release obstacles that are between you and your joy. Join us and discover the power of yoga for life! You deserve it, and your loved ones will also benefit.
---
Schedule
Friday, October 6
3 – 4:30 pm Arrival & Check-in
5 – 6 pm Yoga
6 – 7 pm Dinner
7:30 pm Free Time for Relaxation
Saturday, October 7
8 – 9 am Breakfast
9:30 – 11:30 am Yoga
12:30 – 1:30 pm Lunch
1:30 – 4 pm Free Time For Relaxation and Spa
4 – 5:30 pm Yoga
6 – 7 pm Dinner
7:30 pm Evening Program TBD
Sunday, October 8
7 – 11 am Check-out of Rooms
8 – 9 am Breakfast
9:30 – 11:30 am Yoga
11:30 – 12:30 Free Time for Relaxation and Spa
12:30 – 1:30 pm Lunch
*Please note that the schedule is subject to change at any time.
Leader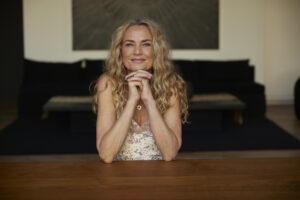 Colleen Saidman Yee
Colleen's yoga journey began reluctantly in 1984 at the urging of a roommate who took her to a class in New York City that left her feeling intimidated and yet remarkably good. Still, she continued other forms of exercise (including running, boxing, and basketball) until 1994, when she was forced to undergo back surgery. Since then, her commitment to her yoga practice has been unwavering. A graduate of Jivamukti's 1998 teacher-training program, Colleen opened her own studio, Yoga Shanti, in Sag Harbor, in 1999. In 2015, Colleen published a best selling book titledYoga For Life: A Journey to Inner Peace…
Learn more about Colleen Saidman Yee