Rooted in Nature: A Pilates and Yoga Retreat – For Women
With Lia Masciulli
August 25 - 27, 2023
In today's busy world, losing sight of who we are and how to care for ourselves can be easy. Join Pilates Master Trainer and Yoga Therapist Lia Masciulli for a unique opportunity to reconnect to your soul through movement, learn to rest in stillness, and explore self-expression. Over the course of three days, you'll return to your roots so you can come home to yourself with a sense of inner peace. Enroll today in this deeply restorative nature-based program—just for women.
Imagine waking up to the calming sounds of nature, savoring healthy meals prepared just for you, and moving your body in a nourishing, supportive way while still having time in the day to connect with yourself. That's a glimpse into what you can expect in this women's retreat.
Over the weekend, you'll be exposed to so much more than just Pilates; it's an integrative experience where you will:
Utilize various props that support and meet your individual needs through blended Pilates & yoga movement, mindfulness, and meditation.
Eliminate muscular tension as well as mental and emotional stress.
Experience deep peace through soothing self-care, relaxation, and self-expression techniques.
Learn sequences that can increase breathing capacity and calm your nervous system.
Strengthen the relationship you have with yourself.
The remote location of this retreat allows you to be secluded and surrounded by trees, mountains, and rivers as you dive into the weekend and your practice. Throughout the retreat, you'll be treated to healthy, comforting meals and have the option to indulge in a massage, explore the nature trails, or simply relax by the pool. By the end of the retreat, you'll return home feeling grounded with renewed energy, inspiration for the future, and a deeper connection to yourself and those around you.
---
Schedule
Friday, August 25
 3 – 4:30 pm Arrival & Check-in
4:30 – 5:30 pm Afternoon Session
6 – 7 pm Dinner
7:15 pm Orientation
Saturday, August 26
8 – 9 am Breakfast
9:30 – 11:45 am Morning Session
12:30 -1:30 pm Lunch
1:30 – 4:30 pm Free Time for Relaxation and Spa
4:30 – 5:30 pm Afternoon Session
6 – 7 pm Dinner
Sunday, August 27
7 – 11 am Check-out of Rooms
8 – 9 am Breakfast & Room Checkout
9:30 – 11 am Morning Session & Close
11 – 12:30 Free Time for Relaxation, Spa or Departure
12:30 – 1:30 pm Lunch For Those Still On Site
*Please note that the schedule is subject to change at any time.
Leader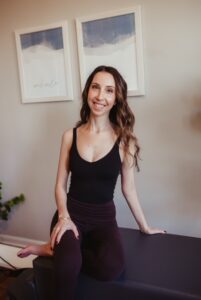 Lia Masciulli
Founder of wel•lam, Pilates Master Trainer, and Yoga Therapist. Lia has been teaching for 10+ years and describes herself as a lifelong student of the body. With a background in Pilates, Barre, and Yoga, she brings a holistic and therapeutic perspective to her teaching. Her passion lies in connecting with her students, honoring their individual practice and needs. Lia specializes in Prenatal & Post Pregnancy, Musculoskeletal Pathologies and has pioneered a series supporting the physical and emotional well-being of Teen Girls. She leads her sessions with a strong voice and a soft heart, with alignment, form, and breath at the…
Learn more about Lia Masciulli