Learning to Let Go: Acupuncture, Breathwork, Cacao & Sound Healing
With Nicole Amodio, 500 RYT, AudreyRose Viscovich, 500 RYT and Alyssa Stare MSAOM, L.Ac, LMT
November 17 - 19, 2023
Using holistic healing modalities and activities to set intentions, manifest, create change, movement, and freedom in our lives.
Vision Boards, journaling, intention setting and burning, spiritual cards, group acupuncture available as well.
---
Schedule
Friday, November 17
3  -6 pm Arrival and Check-in
6 – 7 pm Dinner
7:30 – 9 pm Welcome Program

Acupuncture & Sound Healing event
Indulge in a wellness immersed experience with Nicole, AudreyRose & Alyssa. Gentle restorative yin yoga titrated into sound healing, amplified with acupuncture. This will be a relaxing and rejuvenating evening.
Saturday, November 18
7 – 8 am Vinyasa Flow Class with AudreyRose
8 – 9 am Breakfast
9:30 am – 12 pm Morning Nature Hike Followed by Meditation, Intention Setting
12:30 – 1:30 pm Lunch
2 – 3 pm Group Acupuncture with Alyssa and/or Vision Boards with AudreyRose
3:15 – 4:15 pm Group Acupuncture or Free Time for Relaxation and Spa
4:30 – 5:30 pm Hatha Yoga Class with Nicole
6 – 7 pm Dinner
7:30 – 9 pm Breathwork & Cacao Ceremony with Nicole, AudreyRose & Alyssa

Participants will drink ceremonial grade Cacao, followed by Holotropic Breathwork.
Breathwork is profound and life-changing intensive breathwork practice designed to cleanse and nourish the body physically, mentally, emotionally, mentally and energetically. It is completely unlike any other form of breathing. It's a deep healing modality that has been described as "twenty years of therapy in one session without saying a word."
Sunday, November 19
7 – 11 am Check-out of Rooms
7 – 8 am intro to Ashtanga with Nicole
8 – 9 am Breakfast
9:30 am – 12 pm Debriefing the weekend. Everyone will unpack what went on throughout their experience. Journaling during this time, and reflecting on their healing.
12:30 – 1:30 pm Lunch & Departure
*Please note that the schedule is subject to change. 
Leaders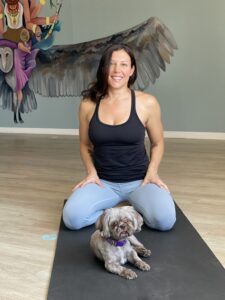 Nicole Amodio, 500 RYT
Nicole has been a yoga practitioner for over 22 years. Her deep love and gratitude for the practice led her to become a 500 HR Yoga Alliance Certified Instructor. She has trained with some of the most recognized teachers in Ashtanga which includes David Swenson, Kino McGregor, Tim Miller & David Robson. Her hope as the owner of Just Breathe Yoga is to spread yoga to all those who are looking for it.
Learn more about Nicole Amodio, 500 RYT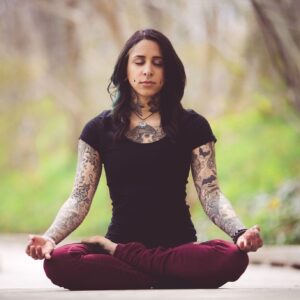 AudreyRose Viscovich, 500 RYT
AudreyRose's experience includes 500 YTT – Always at Aum, Certified level 1 reiki. Audreyrose is registered with the Yoga Alliance as a 500-RYT. A graduate from the Always-At-Aum Yoga School, she is certified to teach vinyasa, hot, children, yin, and acro yoga. She uses positive affirmations in her class to support her students in manifesting the world they want to live in. Her graceful flows are heat inducing that leave students feeling grateful and calm. Audreyrose is a yogi on and off her mat. She is committed to a vegan diet and loves spending time with her dog Ollie, her…
Learn more about AudreyRose Viscovich, 500 RYT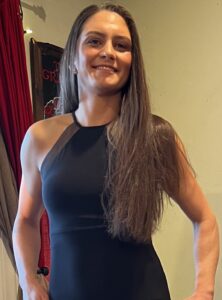 Alyssa Stare MSAOM, L.Ac, LMT
Alyssa is a licensed acupuncturist and a licensed massage therapist with a strong background in personal training. Alyssa holds a Master's Degree in Oriental Medicine and is trained in using Traditional Chinese Herbs, Acupuncture and Amma/Tui Na. Alyssa specializes in treating orthopedic pain, chronic pain, postoperative recovery, stress management, vertigo, Bell's Palsy, post-stroke and auto-immune related disease related patients.
Learn more about Alyssa Stare MSAOM, L.Ac, LMT