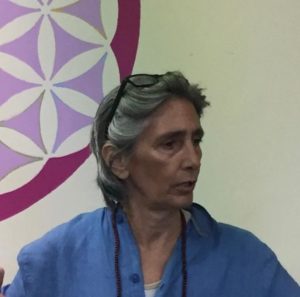 Director of Sonic Wellness -Tibetan Tones®.
Elaine combines her practice of Classical Chinese medicine theories with Tibetan and Zen Buddhism as the foundation to her Tibetan Tones® therapies to give people a glimpse into their own true nature. A chance  for them to realize the illusion of illness and the spiraling snake like nature of energy.
This is an amazing and gifted being with a life time of extraordinary  experiences and wisdom which she shares from the heart.
Turning 63 this year, Elaine is now on a mission to train teachers I her systems.  Hence, her choice for Menla as the training ground and smaller groups.
"We must rise above the stagnation of the Body – Mind and Spirit, individually and collectively .As practitioners we must understand our job is not to heal, but to teach, and only if we ourselves are  Awakened through stillness can we do this. You can't teach someone what LSD is like if you never dropped the acid yourself."
Elaine works with clients and holds workshop trainings in NYC, NYCollege for Health Professionals and at Sonic Wellness Institute in E. Northport, NY
She will be teaching in New Delhi in September 2018.
elaine@angelheart.com.   917 748 6600