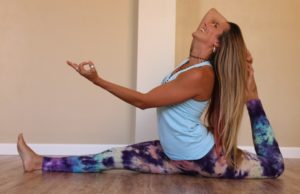 Renata Langner is originally from Brazil. Spiritually connected in nature she is grateful for all aspects of her practice stillness, heat, alignment, flow and sound. Guided by the sign of Cancer Renata is a humble home lover mother of two but fiercely creative and free-spirited. As a byproduct of this marriage, Renata experiences life to its fullest connecting with her deeper identity and genuine voice she invites anyone to seek their own sacred space within. Classes are a slow but dynamic flow of ashtanga inspired poses threaded by vinyasas, breath and alignment awareness. Renata devotes a part of her class speaking from heart and her authentic life stories sharing is the greatest gift she has to offer.
While supporting advanced students deepen their practice beginners students are always welcome!
Renata graduated from institute Integrative Nutrition specializing in Raw Juice Cleansing and Life Coaching. Renata completed her 200H at Om Sweet Om in 2008 where she found her first teachers Gail Grossman and Lisa Bondi. As an E-RTY she has completed her 500H at Long Island Yoga School in 2013 also participated to Ashtanga trainings with David Swenson and David Garrigues, Yoga Philosophy at Omega, Reiki I,II,III and Mastery at Kripalu. She has also immersed herself in various Programs in Art of Personal Transformation at Omega Institute and Open Center NYC (with Sierra Bender, Gurmukh kaur, Jon Kabat-Zinn, Byron Katie, Gloria Steinam) Finally, Renata's latest gifts came to her in 2012 as she pursuits her vision as a Henna Artist and Designer.