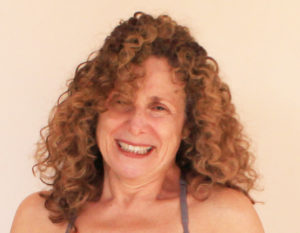 Like her book "American Yoga," Carrie Schneider's instruction taps our vantage as 21st century yogins–fed, not limited by tradition. Her classes are seriously fun orchestrations of the salutations and held alignments that show us what we are.
Initially certified in 1989, Carrie took teacher's intensives with Richard Freeman and David Life that informed her teaching then as now. A longtime student of Ramanand Patel and Ruth Lauer Manenti, Carrie was additionally certified by Rodney and Colleen Saidman Yee and Kofi Busia. Her 2012 study with Iyengar masters Rajiv and Swati Chanchani in Rajpur, India, was another game-changer, as is her ever-deepening meditation practice, cheered on eternally by Swami Dayananda.
This ongoing inquiry has fueled group classes at Yoga Shanti, Yoga Works, Crunch, and Yoga Sutra; workshops at Jivamukti, Pure Yoga, and Vira Yoga; retreats in the Finger Lakes, Samasati (Costa Rica), Menla, and Ananda Ashram (where her summer and fall weekends have been a staple since 2004); and private sessions with students whose steady devotion has been the greatest teaching of all.