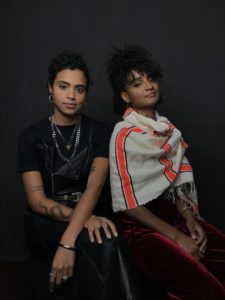 Sara Elise and Tara Aura are the co-creators of Blind Seed.
Sara Elise (left) is the owner of Harvest & Revel- a collaboratively-run, women-led, full service catering company based in Brooklyn that focuses on using organic, seasonal, locally sourced ingredients to create elegant culinary experiences. Not only an advocate for food justice and co-creator of Blind Seed, Sara is also committed to the personal development of creatives, urban professionals, and primarily people of color. With her background in both personal nutrition & wellness, Sara works to elevate both her clients and her community to elevate to their fullest selves- one nutritious meal, wellness workshop, and conversation at a time.
Tara Purnell aka Tara Aura (right) is a Washington, DC-native, based in Brooklyn, New York. In addition to curating intimate wellness experiences for marginalized communities as Co-Founder of Blind Seed, she is also the founding Culture Director at WTRMLN WTR, the pioneering cold-pressed beverage company. Tara is a meditation guide, performance artist and certified yoga teacher, empowering people to feel better more of the time.