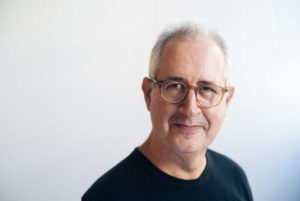 David has been the Director of Karme Choling Meditation Center in Vermont (USA), Director of Buddhist Studies and Practice at OM Yoga Center (NYC), and Director of the Dharmadhatu Meditation Center in Los Angeles. He teaches meditation workshops and teacher training programs around the world and online, and also mentors individual students in person and via Skype.
He is known for his ability to present the richness and depth of the Buddhist tradition with a light touch, making it accessible and relevant. He created a weekly live broadcast available on YouTube and has online workshops available through creativeLIVE.com. His first book "Awakening From The Daydream – Reimagining The Buddha's Wheel of Life" was released to critical acclaim by Wisdom Publications in October 2016. His ground-breaking second book – "Creativity, Spirituality & Making a Buck" was released by Wisdom Pubs in October 2019.
David is also an Emmy winning, Grammy nominated composer, guitarist and producer. He is the composer of the classic song "Midnight at the Oasis" and has worked with a diverse range of artists including Stevie Wonder, Christopher Guest, Paul Simon, Lana Del Rey, Jerry Garcia, Maria Muldaur Krishna Das, and many others.