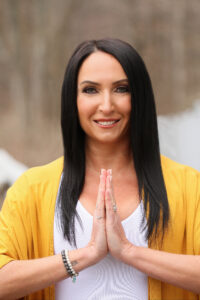 Nicole Beekman-Zornitzer, ERYT 1000 Integrative Yoga Therapist, Reiki Energy Healer, Ayurvedic Counselor, Founder of Niyama Yoga & Wellness Studio in Randolph, New Jersey.
Nicole founded Niyama Yoga Studio in 2007. She has 28 years of experience in the wellness industry. Her certifications include Yoga Therapy RYT 200 & 300, The Barkan Method, The Radiant Child Yoga Program, Pre & Post Natal Yoga and Aerial Yoga. She studied Reiki under the lineage of Dr. Mikao Usui and received her graduate certificate from The Maryland University of Integrative Health in Ayurvedic Medicine. Her mentors include Diane Finlayson, Elena Brower and Jimmy Barkan.
Nicole is the appointed yoga instructor for the Livingston Public School System and has enjoyed much of her career teaching athletes, including the New York Jets Football Team and the Trilogy Lacrosse Team.
After suffering from her own personal health crisis in 2015, Nicole turned to her background in yoga and Ayurveda to save her own life. She brings experiences from her own journey onto the mat in the most sincere and authentic way.