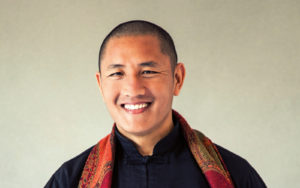 Tulku Lobsang Rinpoche is a Buddhist master that bridges worlds. Deeply rooted in Tantrayana, Bon, and a Doctor of Tibetan Medicine & Astrology, he presents to the modern world the ancient wisdom and methods, integrating various disciplines into one, as they originally were.
Born in Amdo, north-eastern Tibet, Tulku-la was recognized at the age of 13 as the eighth incarnation of the Nyentse Lama and received the traditional, intensive Buddhist training for a tulku. He is especially a master of Tummo, the inner fire practice.
As founder and director of Nangten Menlang International, his aim is to awaken each of us to our own inner wisdom and inner medicine. With his humorous, charismatic and straight-forward style,Tulku Lobsang skillfully distills the essence of the ancient wisdom into accessible, practical advice.