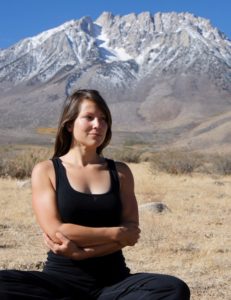 Farrah Garan teaches traditional Tibetan healing movement practices that empower us to cultivate a calm mind, vibrant energy and open heart, including: Lu Jong Healing Yoga, Tog Chöd Sword Dance, and Tsa Lung Breathwork.
Farrah received the Tantrayana Buddhist tradition from her teacher, Tulku Lobsang. She has worked closely with Tulku Lobsang since 2002, as a student, chairwoman of the North American branch of his organization, North American Tour Coordinator, and employee of Nangten Menlang International. She writes the Teacher's manuals and has been integral in developing the Lu Jong Teacher Certification program and curriculum.
 Farrah is dedicated to spreading the deep wisdom of the Tibetan healing arts. Her aim is to make these simple—but powerfully effective—practices widely known, particularly by training more teachers so that many may benefit.