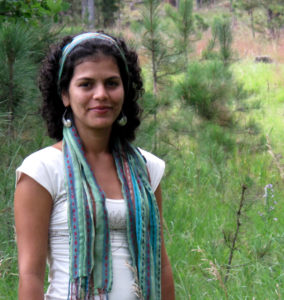 Júlia Freire de Medeiros has a degree in Environmental Management from the Federal University of Brasília-UNB. She worked in Socio-environmental projects in the Amazon. Today she works in the area of health and therapy; she explores the environmental and human health interface.
Júlia was born in Rio de Janeiro and grew up in the Brazilian Amazon where she lived most of her life. During her childhood, she lived directly with the research and development of the Amazon Flower Essence System. She was a pioneer learner at the NGO: CMF (Centro Medicina da Floresta), a community institution dedicated to the research of traditional knowledge about Amazonian plants and its application in the cultivation of health. This cultural root gave her a natural knowledge and a unique understanding of the therapeutic approach of the system.
She studied and worked next to her mother – Maria Alice Campos Freire, co-creater of the Amaflor system. Together they developed a new stage of the research on the Amazon Flower Essence System in the Juruá River Valley, in the state of Acre, with the participation of several members of original populations of the region. Júlia was responsible for systematizing the research, which was published in the book "Iapuna – Language of People, Language of Flower". Júlia is now an accredited teacher of the Amazon Flower Essences System – Amaflor and Iapuna. She teaches introductory courses in Brazil and in various countries around the world. In the field of health and human development, she works with Amazon Flower Essence Therapy and CranioSacral Therapy. She attended 3 years of Iyengar Yoga teacher training and is attending CranioSacral therapy training by Upledger Brazil.