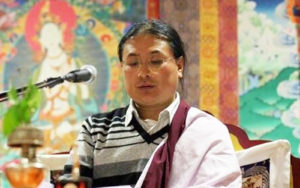 Dr. Nida Chenagtsang is a traditional Tibetan physician and lineage holder of the Yuthok Nyingthig, the unique Vajrayana Buddhist spiritual healing tradition of Tibetan Medicine. Born in Amdo, in North Eastern Tibet, he began his early medical studies at the local Tibetan Medicine hospital. Later he was awarded scholarship to enter the Lhasa Tibetan Medical University, where he completed his medical education in 1996, with practical training at the Tibetan Medicine hospitals in Lhasa and Lhoka.
Alongside his medical education, Dr Nida received comprehensive Vajrayana Buddhist training in the Longchen Nyingthig and Dudjom Tersar traditions and is a lineage holder of the Yuthok Nyingthig, the spiritual healing tradition and esoteric component of Sowa Rigpa. A well-known poet in his youth, Dr. Nida later published many articles and books on Sowa Rigpa (Traditional Tibetan Medicine) and the Yuthok Nyingthig tradition, and his extensive research and revival of ancient Tibetan healing methods has earned him great acclaim in both the East and the West for his revival of traditional Tibetan external healing therapies.
Dr. Nida is the Medical Director of Sorig Khang International (www.sorig.net) and the Sorig Institute: School of Traditional Tibetan Medicine (www.soriginstitute.org); Co-Founder of the International Ngakmang Institute, established to preserve and maintain the Rebkong ngakpa non-monastic yogi/ini culture within modern Tibetan society; and Co-Founder of Pure Land Farms: Center for Tibetan Medicine, Meditation and Rejuvenation in Los Angeles, California (www.purelandfarms.com).
In addition to his work as a physician, he trains students in Sowa Rigpa and the Yuthok Nyingthig tradition in over forty countries around the world.
Events with Dr. Nida Chenagtsang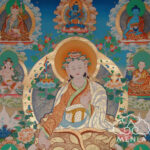 Medicine Buddha Rejuvenation Retreat
April 7 - 12, 2023
Tantric Ngagpa Lama Doctor, Yuthok Yonten Gonpo the Younger (1126-1202 CE), transmitted the Buddha's medical knowledge and teaching developed over 17 centuries by learned and enlightened mendicant and lay physicians in various kingdoms in the Indian subcontinent, revealed outside Vaishali city by Shākyamuni Buddha and transformed for the occasion into the dark blue sapphire-colored radiant Eighth Medicine Guru Buddha (Bhaiṣhajyaguru Buddha). In fact, the Younger Yuthok was himself considered an emanation of the Medicine Buddha, resurrecting the Indian Four Medicine Tantras codified by Vāgbhaṭṭa, the vast literature of Indian Buddhist medicine that burned with the destruction of the Library of…