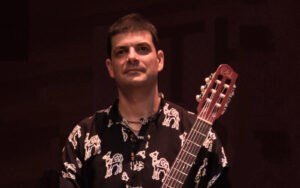 As a producer and musician, David Ellenbogen has worked with a who's who of global artists including Grammy winners Zakir Hussain, Toumani Diabate and Terry Riley.   David's role as guitarist and Artistic Director of Brooklyn Raga Massive has led to praise in the New York Times for  "Preserving the past while blurring genres in an inventive spirit"  and the Wall Street Journal for  "Expanding the notion of what raga—the immersive, epic form of Indian music—can mean."
David has studied and performed music in over a dozen countries including India, Mali, Cuba, Brazil and has expanded the audience for global music through his radio broadcasts on WKCR, his podcast NYC Radio Live, and ambitious productions like the Ragas Live Festival, a 24 hour, 24 set opus featuring 90 musicians in 15 cities.
In 2009, David co-founded the Acoustic Mandala Project (Putamayo), which explores the potential of raga based ambient music for yoga and meditation. He has since led many Sound and Yoga retreats from upstate NY to Costa Rica.