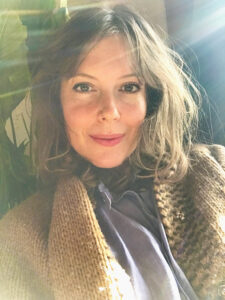 Kat Hunt is an artist and mystic who has been working in the unseen realms for the past decade. She has translated the Akashic Records for hundreds of clients through her channeled healing
practice, sun moon earth sea. She is also fluent in the languages of Reiki, plant communication, and various forms of trance induction. She received her Akashic Records training and certifications from Christina Cross, long-time apprentice to Linda Howe. She was a founder of Moon Church, the feminist spiritual collective, and has led women's circles at Otion Front Studio, Body Actualized Center, and Maha Rose. Before shifting her focus to art and service, Kat worked as a consultant for big and small companies, including the United Nations, the New York Times, Facebook, Nike, and many more.
Kat lives and works on a bluestone mountain near Woodstock, New York, the traditional homelands of the Lenape.