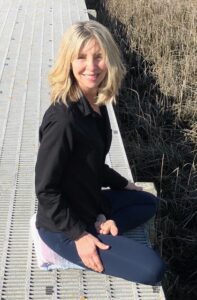 Paula Evans LCSW CBT is a psychotherapist and mindfulness practitioner and teacher.  She has taken her personal practice and love of Vipassana meditation into the professional, supporting patients with mindful tools and coping skills in trauma, grief and loss, food addiction and life transitions.
Paula studies the Dharma at the Long Island Buddhist Meditation Center under Bhante Kottawe Nanda and leads meditation classes there.  
With gratitude, Paula is a student of Exploring the Heart of Freedom at Insight Mediation Center and Barre Center for Buddhist Studies, an immersion into the Dharma, the teachings and practices of the Buddha.
Paula is also is a student of the Mindfulness Meditation Certification Program with Tara Brach and Jack Kornfield.
She is passionate about introducing mindful ways to cultivate growth and healing on a physical, emotional and spiritual level.