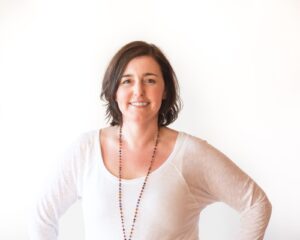 Liza Bertini, MS, E-RYT 500, YACEP®, is a Co-Founder of The Thread Yoga Collective. Teaching and coaching is Liza's life-calling and for the past 19 years, she has been mentoring, training, and creating experiences to help people live more healthy, mindful, and meaningful lives. A Kripalu Yoga teacher, Liza's teaching is passionate, deliberate, light-hearted, and rooted in the belief that yoga reveals a deeper understanding of who we are. Formerly, Liza owned a yoga studio business for 15 years in NJ before moving to the Berkshires 4 years ago with her two greatest teachers, her 10-year-old twins, Luca and Delilah.
Liza loves bringing people together in community and has found that the power of yoga is amplified when we share and support each other on the path. The Thread Yoga Collective is an evolution of Liza's desire to assist and support yoga teachers in bringing forth their best selves while creating thriving careers doing what they love most.
Liza's commitment is to share the very best of what she's living and learning from her own journey plus time tested wisdom, mindfulness practices, thought-provoking ideas, and an unwavering devotion to help you live your most expansive, expressive and meaningful life.
Events with Liza Bertini
Go Deeper Retreat
September 29 - October 1, 2023
Join Michelle Dalbec and Liza Bertini, Co-Founders of the Thread Yoga Collective, for a weekend to dive into the inquiry of yoga and life. At the turn of the season, a time that represents the transition from outward to inward, it is a perfect time to pause, reflect, and nurture ourselves. Enjoy blissful days filled with yoga, meditation, healthy organic meals, inspiration, time for reflection, journaling, hiking, and self-care. The sacred time we share together will quiet our minds, awakening our senses, and invigorating our souls! This unique retreat includes: Lovely accommodations for 2 nights Nutritious, organic, and locally-sourced meals…