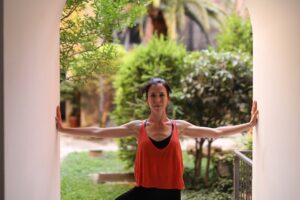 Viale Yoga seeks to create mindful opportunities to step out of the day-to-day intensity in our lives — and inspire all to participate in a devotional practice that improves the way our minds and bodies work together.
Viale Yoga started as a seed during Francesca's 15+ years of practicing and teaching yoga- and as a way to deal with a chronic back issue. The practice merges alignment therapy + movement — and is influenced by the traditional yoga lineages, in addition to various modern modes of dance and rhythm.
Born and raised in Roma, Francesca's teachings merge the importance of structure and boundaries with the infinite possibility of freedom, movement and discovery.
Francesca is currently based in New York + Italy, and along with a weekly schedule, lead trainings and workshops around the world.