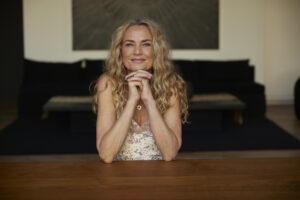 Colleen Saidman Yee is an internationally respected yoga teacher that has been teaching since 1998 and practicing since 1984. She received the title: "The First Lady of Yoga" by the New York
Times and has reached celebrity status in the yoga world. She opened Yoga Shanti Sag Harbor in 1999; and opened Yoga Shanti Tribeca in 2018.
Colleen has been featured in thousands of yoga videos on many different platforms and is a strong voice for women. Colleen is considered a teacher's teacher. With Donna Karan and Rodney
Yee, Colleen created and runs the Urban Zen Integrative Therapy Program, utilized in healthcare facilities around the country. This program has received many prestigious awards. She has graced the cover of Yoga Journal 4 times, and has a 12-week online course called Yoga for Inner Peace on the Yoga Journal site. Articles about her have appeared in The New York Times, New York magazine, Vanity Fair, and O, The Oprah Magazine, among many others. Colleen released her first book, Yoga for Life in June, 2015, and her podcast by the same name launched in the summer of 2020.
Colleen's mission in life is to embed the message that: "You are Enough" into the cells of all of her students.
Colleen and Rodney's 4 children continue to be their most humbling teachers. She lives in Sag Harbor, NY.