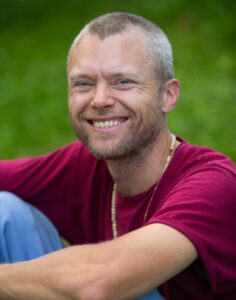 Aaron 'Water' Piepszny began his martial arts training in 1998, practicing Capoeira with Capoeira Mandinga Buffalo for 18 months while he was studying modern and classical dance.
Aaron started his Asian martial arts training in Praying Mantis style, with Sifu George Lisjak in Hamburg, NY in 2002.
In 2004, Aaron became a certified Qigong teacher with master Wei Zhong Fu. In 2005, he was a Qigong apprentice with Michael Winn student and author, Jerry Stocking.
Aaron Water spent 2 years under the tutelage of Spiritwind Internal Arts founder Sifu Chik Mason in Buffalo, NY studying Yang style Tai Chi, Ba Gua, and various styles of Kung Fu. In Toronto, ON, he studied with Sifu Dylan Kirk in the same school for 2 years. Aaron studied primarily Tai Chi sword forms with Sifu Liu in Toronto at this same time.
In 2005 Aaron began studying Contact Improv, a two or more person art-sport-dance. The embodied lessons around momentum, multiple points of contact, and partner/ opponent center control learned from this modality took the lessons of hand to hand training to a deeper level.
Aaron Water is currently the lead gardener at Menla Retreat center, having worked in agriculture with a focus on long handled tools, body mechanics, posture, and having fun.