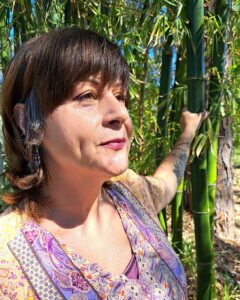 Iquwah Bezuyen is a naturalist, herbalist, Master Gardener, long time community builder, and equal housing activist. She's been caring for plants and animals her whole life. Iquwah has been running greenhouses for 20 plus years. She was an outdoor education and farm specialist at Camp Oh-Neh-tah in Windham NY, where she maintained and planted a biodynamic education garden, taught camping, hiking, foraging skills was the leadership trainer for 150 participants, parents, and staff, and created the camp's farm program.
She is a ginseng, native ephemerals, and food forest grower and was a farm manager at the American Ginseng Pharm. She mentored with the late ginseng master Bob Beyfuss, planting and caretaking over 300 acres of wild simulated ginseng cultivation in the Catskills. She owns and operates her own greenhouse where she starts plants from seed, does cloning, propagation, studies the best plant genetics for the mountain garden, and grows edible and medicinal mushrooms. Iquwah is also a certified welder, and has her level 1 chainsaw certification from Soren Eriksson's school "The Game of Logging".
Iquwah has worked on multiple ecological cleanup sites, including in New Orleans after hurricane Katrina, planting mangroves, and after hurricane Irene in Prattsville, NY. She is currently the head of horticulture at Menla.
Iquwah is a member of the Matrium of Cybele in Palenville, NY, studying Goddess religion and Magic for over a decade.
Events with Iquwah Bezuyen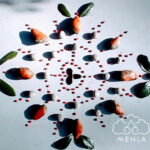 MagiCraft: Autumnal Equinox Gathering
September 21 - 25, 2023
This seasonal gathering will weave concepts from magic, herbalism, and ceremony/celebration into a balanced, creative, and receptive expression of our humanness as nature itself. Menla's powerful lead gardener, Iquwah, will share her deep wisdom and unique expression, born of a lifetime spent with nature. Participants will craft their own personally informed expressions of connection with nature as well as co-create with the group a reborn celebration of the Goddess. In the deep beauty, quiet, and abundance of the Catskills, participants will make medicines of their intention, words, community, and gifts from the Earth. Crafting inspired infusions, learn how to create…