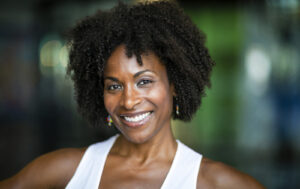 Founder and CEO, Afro Flow Yoga®
Alvin-Ailey trained dancer, yoga instructor, wellness coach, and community activist, Leslie co-founded Afro Flow Yoga® in 2008 with her husband, multi-instrumentalist, composer, and engineer Jeff W. Jones. Afro Flow Yoga® grew out of Leslie and her husband's explorations of healing and their African American and Caribbean heritage in West Africa, Haiti, and Jamaica. They discovered that many dances and rhythms survived slavery and colonialization and could be found throughout the African diaspora, and that yoga had a long, if little-known, history on the continent. The couple developed a new integrated practice, Afro Flow Yoga®, that integrates Leslie's deep knowledge of yoga and African and Afro- Caribbean dance, Jeff's extraordinary fluency in drums, melodic, and other traditional African instruments, and their passion for the empowerment, education, healing, spirituality, and wellness of all they serve. As a result, Afro Flow Yoga® is a unique approach to physical, emotional, and mental wellness.
As a discipline, Afro Flow Yoga® is an embodied practice integrating dance movements of the African diaspora with meditative yoga and live healing music, promoting individual and collective healing in a compassionate, non-judgmental, inclusive, and safe environment. Afro Flow Yoga® is a unique approach to physical, emotional, and mental wellness.
As a company, Afro Flow Yoga® offers in-person and virtual classes, workshops, retreats, discussions, and teacher training programs, building community, and cultivating activism through the lens of the African diaspora, offering educational resources on the history of racism, deconstructing racism, and healing our roots. Afro Flow Yoga® has been featured in publications including O Magazine, Self Magazine, Essence, Black Enterprise, and is the subject of a recent New York Times article. "Dark Girls 2," a documentary produced by Oprah Winfrey's OWN network
features the healing aspect of Afro Flow Yoga®.
Leslie is also a co-creator and faculty member for the Omega Women's Leadership Intensive and at The Omega Women's Leadership Center and serves on the Board of Directors for the Yoga Alliance.
Leslie completed her BA in interdisciplinary studies in health sciences and dance at SUNY, NYC. She has studied with world-renowned Master of Dance, yoga, and spirituality. Leslie was first introduced to yoga through her intensive dance training at the Alvin Ailey School in New York, and 30 years later she remains dedicated to her yoga practice and teaching.