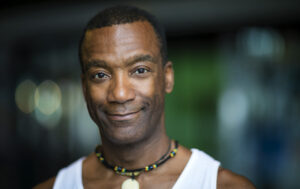 Jeff is a professional engineer, multi-instrumentalist, vocalist, composer, and musical director whose musical roots stretch back through generations of Black musicians.  For over four decades he has traveled the world and worked with musical greats including Little Richard, Al Green, and Zap Mama, to name just a few.
Jeff co-founded Afro Flow Yoga® in 2008 with his wife, Leslie Salmon Jones. Jeff's special love for the bass and healing drums ground and center the yoga practice. Afro Flow Yoga® has delivered workshops and retreats worldwide, including to the Kripalu Center, the Omega Institute, and Harvard Divinity School, and has been eatured in a recent documentary on Oprah Winfrey's OWN network,  "Dark Girls 2"
Jeff creates an intuitive dynamic flow through a stream of consciousness and the mastery of African-inspired rhythms, instruments, and vocals, synergizing the class collective. His use of the djembe, which he brought back from Ghana; congas; bongos; the Sudanese Acholi lyre; Indian bells; tambourine; and an eclectic array of tonal instruments makes for a healing musical journey.