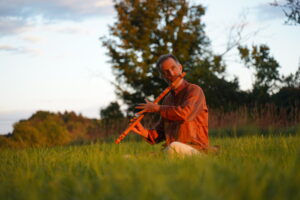 "SUR PAGOL" – MAD FOR TUNE
In Kolkata, India, there is a Bengali saying that when one is deeply enthralled with music they are "Sur Pagol" or mad/crazy (in a good way) for tune. In this workshop we will discover and practice the tuning system of Indian Ragas, and how intoxicating it feels to listen, play or sing with a Tanpura or Shruti Box. We will explore what makes good "Sur" (the tone and tune of a note), how it works in Indian ragas, and how it can be utilized for healing sound meditations.
Eric Fraser's training in Indian classical music on the bansuri flute occurred in the Guru-Sishya Parampara tradition, meaning that he received training in Indian classical music while living with his teacher (Guru – late Pandit Gopal Roy), in Kolkata, India. Eric received years of extensive taleem (oral teachings). The "sur" (tone and tune) of Eric's flute lineage has a unique sound in the landscape of Indian music, telling the story of an old world Kolkata vibe through a gayaki ang or "singing style" of bansuri flute.
Eric is also a multi-instrumentalist, educator, composer, and songwriter. He is a Board Certified Music Therapist (MT-BC) and a Licensed Creative Arts Therapist (LCAT). He is the founder of Sound and Nature, a licensed mental health practice in Hudson, NY. Eric is also a co-founder of the Brooklyn Raga Massive and a Fulbright Senior Research Scholar for Indian classical music.
More here: https://www.soundandnature.com/about