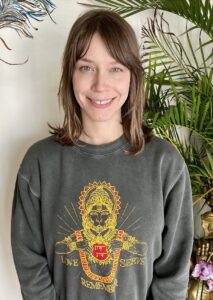 I was first introduced to yoga during high school via DVDs. Over the years I engaged in workshops and dove deep into the ancient texts, philosophies, and postures. Alongside the physical benefits of the practice such as increased strength, flexibility, and improved breathing, I began to observe my outer world and inner self aligning, I began walking and talking with compassion that stemmed from the center of my heart.
In 2019 I attended Caribe Yoga Academy 200YTT and spent a month living in the jungle on a beautiful yoga ashram. I was trained in vinyasa yoga based on functional anatomy. In early 2020 I traveled back to assist my teacher in facilitating a yoga teacher training. I love to continue my education and nerd out on all things yoga! I love spending time with my husband and dog, being in nature, and seeing live music.
My goal as a yoga practitioner is to allow for students to drop into a meditative practice and learn to find stability and sovereignty of the body and mind that can be taken off of the mat. We will set a sankalpa (intention), build agni (fire), and dive into physical asana (postures), using modifications and props, always ending with a restoring savasana. I look forward to practicing with you. OM shanti!