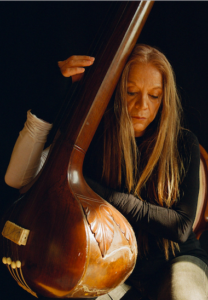 Friday June 23rd 2:30-5:30
The Generative Voice of Medicine Melodies with Silvia Nakkach, M.A. MMT ((Saraswati Devi)
Delving into acoustic subtleties and Silvia's refined melodiousness, we'll explore the ecstatic, the shamanic, and the contemplative energy of the voice through the cosmic beauty of the Icaros, Afro-Brazilian Orixà invocations, and the Ragas of India. The music-making will be accompanied by indigenous instruments, Crystal Tone bowls, and amazing new ways to unfold the harmonic resonance of the sruti box. (Silvia is the foremost music psychotherapist who introduced the sruti box to the field, including in yoga and sound healing in the early 80s).
This session is designed with an emphasis on the mystical experience of sound. Through this liberating approach, the Voice becomes a conduit to enhance the sensibility of the subtle in the body and the mind, expanding conscious states, and reconnecting with the human's intrinsic blueprint of joy, devotion, and the spiritual engagement that follows.
Silvia Nakkach, M.A., MMT
Grammy® nominated composer, interdisciplinary vocal artist, educator, author, Academic consultant, Hindustani raga musician, experimental new music, embodied improvisation, immersive soundscapes for films designer, and recording artist. A former clinical psychotherapist and an internationally accredited specialist in trans-cultural sound and music therapies, including music in shamanic practices. For many years, she has been on the faculty of the California Institute of Integral Studies where she created the premier certificate program in Sound, Voice and Music in the Healing Arts offered by a major academic institution. Presently, she is a Mentor of Trainees'at the CIIS's Center for Psychedelic Therapies and Research, and Adjunct Faculty at East-West Psychology and Contemplative Asian and Transcultural Studies at the California Institute of Integral Studies (CIIS). Since 1988, she is the Founding Director of the International Vox Mundi School of Sound and the Voice and the Yoga of the Voice Training Certificate in Kobe (Japan), Rio de Janeiro (Brazil), and throughout the US. She have acted as a Curriculum Designer and former core Instructor at the New York Open Centre's Integrative Sound Institute. In addition to her academic credentials, Silvia has devoted more than 40 years to the evolving practice of Deep Listening with her mentor the late Pauline Oliveros, and to the study of Classical North Indian Music and Raga under the direction of the late Maestro Ali Akbar Khan and other great living masters of the Chant of Dhrupad tradition, presently, under the direction of Pt. Uday Bhawalkar. Silvia has released sixteen CD albums and is a contributing author of several scholarly books. Her latest book is Free Your Voice, Sounds True (2012). www.voxmundiproject.com.