A SIMPLICITY PARENTING RETREAT
October 02 - October 04, 2020
A Rare Opportunity to Attend a Retreat Facilitated by the Best Selling Author Kim John Payne M.ED
This started as a simple book that has now become a worldwide movement to reclaim family life and parenting. In this retreat we will not only deepen the themes of Simplicity Parenting that Kim originally crafted but he will share some themes and strategies that have never been presented before. He will help you identify the areas in your family life where change may be needed so that you no longer feel so hurried, emotionally fevered or overwhelmed. You will have the opportunity to make small, doable and a practical plans that directly work with bringing flow and balance to daily life in the areas that matter most to you. The five pathways of simplicity will form the structure you will work
with. You will given support to plan strategies that bring more ease and simplify...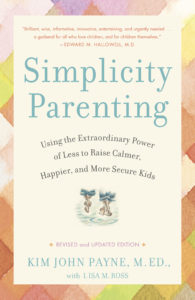 1. The environment and clutter in your home.
2. Family rhythms and predictability that is key to helping a
child feel secure and relaxed.
3. Schedules and sorting out way to navigate the demands of
after school activities, sports and play dates.
4. Filtering out too much adult information and screen time.
5. Strengthen family values and parent leadership.
Most of all, this workshop will help you build stronger connections with your children that endure over time.
---
Schedule Coming Soon!