Sage Academy of Sound Weekend Sound Bath
July 31 - August 02, 2020
Join Lea Garnier for a unique weekend in Menla's beautiful hidden valley in Phoenicia, New York! Sage Academy will be hosting an amazing sound bath experience with four themed immersions that can be paired with one of our Create Your Own Getaway weekends.
*These baths can be booked as a package or can be chosen à la carte for $60 a session.  Class space is limited to 15 people per bath, please inquire with our front desk team today!
---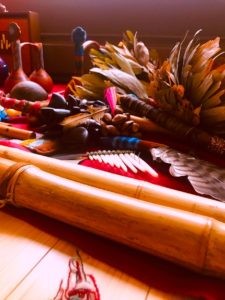 Friday July 31st ~ 7pm to 8:30pm
FULL MOON SACRED SOUND CEREMONY WITHIN THE INDIGENOUS REALMS
with Lea Garnier & Scott Williams
Sound ceremonies are created to channel a very high spiritual energy, so that we can bring forth healing for our participants. Based on cosmic influences and loving intention, we will focus on maturing and balancing our minds and hearts so that our inner masculine and inner feminine can come forward to hold space for ourselves and for each other as we experience massive changes in consciousness. Ceremonies are needed to help heal humanity from the separation from All That Is, which is becoming more and more prevalent in our world. Using sacred sound tools, sacred song and cleansing limpias, our ceremonies help us find our way back to Oneness with an open heart that does not shut down in the midst of turmoil.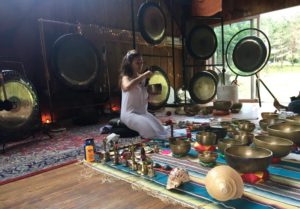 Saturday August 1st ~  11:00am to 12:30pm
MORNING GONG SURRENDER with Lea Garnier & Special guests
"No one can resist the power of a gong played well" Baba Don Conreaux
A tone of fullness, when suspended in acoustic space, feeds back upon itself. This looping of sound volume is called nesting, and it finds its center of balance in 4th dimensional space, in a non-dimension of No Time. Any sound that is "fattened," made fuller and suspended in time, takes on a more holistic quality of resonance, continuously spilling more of itself into the acoustic volume of space until it attains its fullness potential.
Bathing in this space, the overtones of the gongs feed us until we reach a state of Holistic Resonance. We can sense the feeling of our own body transform into a feeling of no body as we surrender to the gongs and allow them to do their work. There is a paranormal sense of levitation, timelessness and bliss that can be experienced, along with a consciousness of detachment, compassion and peace.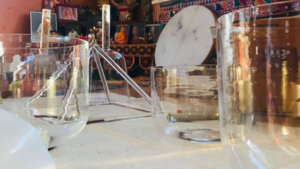 Saturday August 1st ~ 7pm to 8:30pm
FULL MOON CRYSTAL SOUND HEALING CEREMONY WITH PYRAMIDS AND SINGING BOWLS with Lea Garnier & Scott Williams
The sound of Crystal Singing induces deep cellular healing within the meditation state. Crystal vibrations reduce stress, reconnects us to our higher spirit, massages the body, and also helps to restore balance, and helps to align our mind-heart-cosmic connection.  Scientifically, there is proof that crystal sound waves can re-pattern our cellular structure.
The pyramid form is a statement of perfection and balance.  It is one of the highest geometrical shapes found on the physical plane.  It represents conscious connection with the infinite source of energy at the apex, and complete groundedness and physical stability at the base.  They are symbolic of the ultimate balance that each soul must achieve to complete its evolutionary process.
Sunday August 2nd ~  11:00am to 12:30pm
MORNING SOUND BATH TUNE UP! 
Our body is a divine instrument that dances us through our life experience.  We come in and out of tune moment by moment.  Also known as neural coherence, we have the opportunity of being "in tune" after experiencing the therapeutic sound bath.
Allow yourself to enter a timeless space of listening as we weave all our sacred sounds together.  Gongs, Bells, Dulcimer, flutes, crystal and more!!.  Deep listening leads to the experience of sonic bliss; a deep and lasting vibrational rejuvenation for body and soul; a profound aesthetic experience; and a journey through the senses.  Allow yourself to be still, listen and heal.